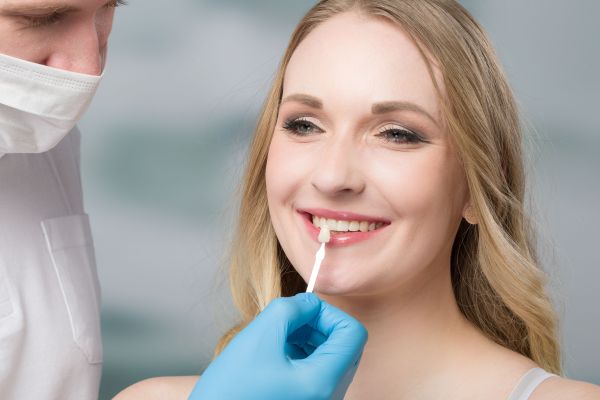 Dental veneers can look stunning when done correctly. A good cosmetic dentist will listen to your concerns to create a great smile for you. If you are considering getting dental veneers, you might be wondering how they feel in your mouth. You may be wondering if the veneers will be uncomfortable or if you will always notice them. The good news is that if your dentist has properly placed the dental veneers, they should feel natural.
Why are dental veneers comfortable?
A dentist will first prepare the teeth for veneers and then take impressions of the teeth. The manufacturer will use each impression to create a customized dental veneer for each tooth. This is unlike some other types of dental veneers that are prefabricated. Dental veneers are designed to fit into the patient's smile.
One way that a dentist helps the dental veneers fit comfortably is by preparing the teeth. This involves filing the teeth down slightly. Some people do not like the idea of removing part of their natural teeth. It is permanent and the enamel cannot be restored. However, this is a necessary step so that the dental veneers will fit the teeth properly. It also prevents the teeth from protruding in an uncomfortable way.
Limitations of dental veneers
With natural teeth, a patient can eat nearly anything. However, patients may be concerned that veneers will not function like natural teeth. If the dental veneers crack or become loose, the dentist will need to replace them. The good news is that this does not often happen because veneers are about as strong as natural teeth.
As long as a patient is careful with dental veneers, the veneers will not need to be replaced. However, as with natural teeth, abuse, such as chewing on ice, can damage them. Dental veneers can last several decades with the right care. This can include:
Getting regular dental checkups
Avoiding chewing on pens or pencils
Flossing and brushing as normal
Avoiding sticky or sugary foods
Chewing on pens or eating sticky foods is not good even for natural teeth. For dental veneers, though, these actions can loosen the dental cement that holds the dental veneer on the tooth. This can cause the veneer to loosen. Eventually, it will fall off.
Decay of the tooth underneath can also cause the dental veneer to fall off. Therefore, it is important to limit sugar and brush regularly. Visiting the dentist regularly can help keep the teeth in good condition as well. A patient will want to get regular dental X-rays too.
Visit a dentist today
If you visit a good dentist, your dental veneers can have the same feel as natural teeth. You will need to have some enamel removed first. However, this will help the veneer feel smooth and natural, providing a comfortable fit. Choosing the right cosmetic dentist is the first step in getting dental veneers that will last for many years.
Request an appointment here: https://artisandentalbellevue.com or call Artisan Dental at (425) 454-2005 for an appointment in our Bellevue office.
Check out what others are saying about our services on Yelp: Read our Yelp reviews.
---
Related Posts
February 1, 2020
Sleep apnea does not have to hold you back from getting a good night of sleep and receiving health benefits. Fortunately, there are effective forms of treatment that many dentists offer, such as a custom-fit …